Desktop Software
Full control over your system with the Toolbox Software.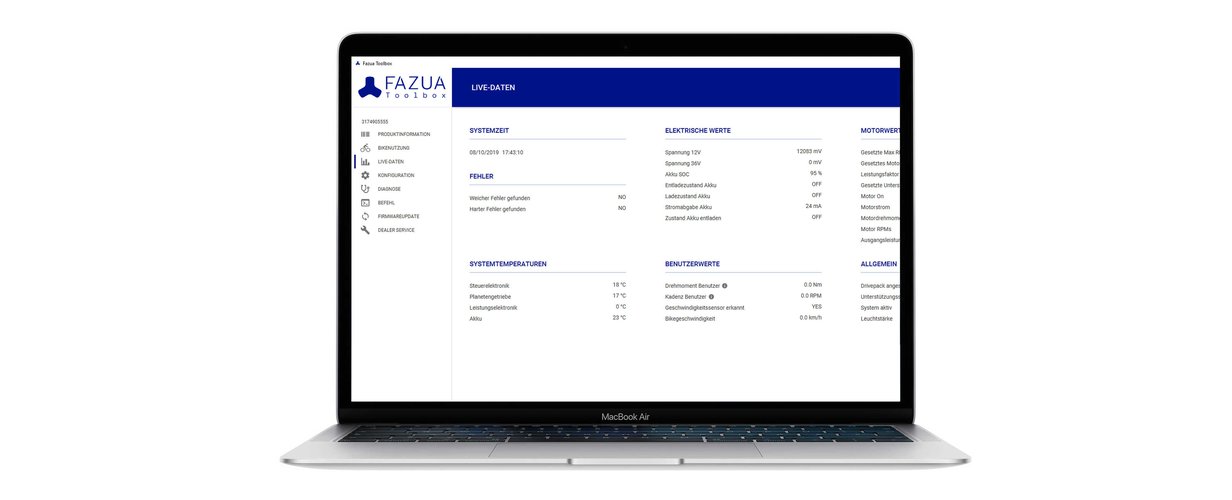 Compatibilities
macOS Sierra, macOS High Sierra, macOS Mojave, macOS Catalina
Installation Requirements
Extract the .app file inside the downloaded .zip service toolbox.
Double click the .app file to run
Compatibilities
Ubuntu 14.04, 16.04, 18.04
Installation Requirements
First of all you need to have installed Java 8 in your computer. Then, to be able to access the USB trough your Linux machine you must enable FAZUA evation USB Drivers:
Extract the .zip
Copy the provided file misc/99-ebike.rules to /etc/udev/rules.d
Type in your terminal $ udevadm trigger
Unplug & plug the USB
To run the evation Service Toolbox:
Open a terminal and browse to the folder containing the extracted FAZUA_Service_Toolbox.run
Run the evation Service Toolbox from the terminal using $ ./FAZUA_Service_Toolbox.run
The Fazua Toolbox is the software designed for our drive system. The Basic Version of the Fazua Toolbox opens up an entirely new way of looking at the drive system: The software displays various different parameters for your system and allows you to independently perform a firmware update. All you need is a USB connection. The latest version v2.04 includes the following features:
Customizer
Ability to change the touch sensitivity of the remote fX
Access to the specific manufacturing, usage and settings information for your system
Ability to perform system check-ups and generate diagnostic reports
Function for updating your system firmware
This video shows you how to use the Toolbox Software to update your system with the latest Motor Software.
Learn how to use the the new Customizer feature in this video.